Paul Bryant – PGA Class A Head Teaching Professional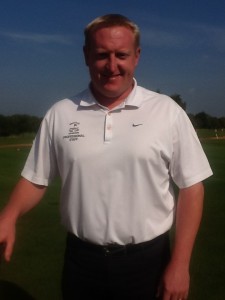 In June 1994, at the age of 18, Paul began his career in golf when he started work at Waterstock Golf Course as a Professional's Assistant, just a couple of months after the golf club had opened.
He immediately fell in love with the sport and practised and played at every opportunity. His ability improved and handicap dropped enabling him to turn professional within two years. He became a qualified PGA Professional in November 1999 and immediately accepted the Head Professional position at Waterstock.
Since becoming Head Professional Paul has enjoyed meeting and teaching people of all ages and abilities and he loves to see people progress and begin to play on the golf course.
Individual lessons are available daily and every Thursday Paul offers a Senior's only and Ladies only group session on a "no need to book – just turn up" basis which is a great way to try golf.
"At the Waterstock Golf Academy we pride ourselves as a friendly and relaxed place to learn and practise golf and I look forward to meeting you." Paul
Paul also offers a club repair and re-gripping service. Please contact Paul for further details.
Testimonials
As a latecomer to golf I soon discovered I had limited natural talent for the game and would need to work on the technical aspects if I were to really enjoy my outings. Paul's patience and thorough understanding of golf has helped me develop my game and gives me considerable hope of further improvement. My lessons with Paul are really enjoyable and always leave me feeling I have learnt something that will be a positive benefit to my game. Brian Rainbow
Approaching retirement I needed a new healthy interest.  I had spent most of my time office bound and wanted a completely different challenge.  I had some friends that played golf and decided that is what I would like to  try.  A few years previously I had had lessons but felt intimidated by the staff and other players at the course I had selected.   However, when I contacted Paul Bryant at Waterstock to book a group of lessons I immediately felt a genuine welcome and instead of feeling apprehensive about taking lessons I was looking forward to it.  Paul has endless patience!  He is a perfectionist in every aspect of his career as a Golf Pro.  As well as individual lessons on the course Paul takes a weekly group lesson for ladies.  This is very popular because he gives each lady attending every attention to improve their game.  Paul has made the difficult task of learning to play golf at my age a real pleasure and now my golf is improving and I am part of the club ladies team. Marian Elbro
I have been playing golf for over 20 years, and had a handicap of 22 when i first joined Waterstock golf club, which was 4 years ago now. I decided it was time to have some lessons, and I chose the head pro at the club, Mr Paul Bryant. I could not have made a better decision, as the instruction given was clear and concise. Things began to make more sense to me and my handicap rapidly fell. If I ever have a question, which I am afraid I have lots, Paul is always happy to help me. He can spot my bad habits from quite a distance and is happy to point them out to me. I have been as low as a 9 handicap, and over last few weeks have slid back to 10. But i know where I am going to put this right. Thanks Paul, a coach and a friend. Charlie Flavin
'Despite much self assessment and adjustment I could not seem to unlock the solid golf swing Paul gave me a decade ago so I booked a course of lessons. Paul reset my swing and cast a meticulous, yet patient eye on every practice swing and shot. Then gave simple, easy to follow instruction and correction; success!
If you know there is a golfer locked inside you visit Paul and he will prove you right.'
(P.S. Its way better value than buying a new driver you won't be able to hit)'. Pete Bailey